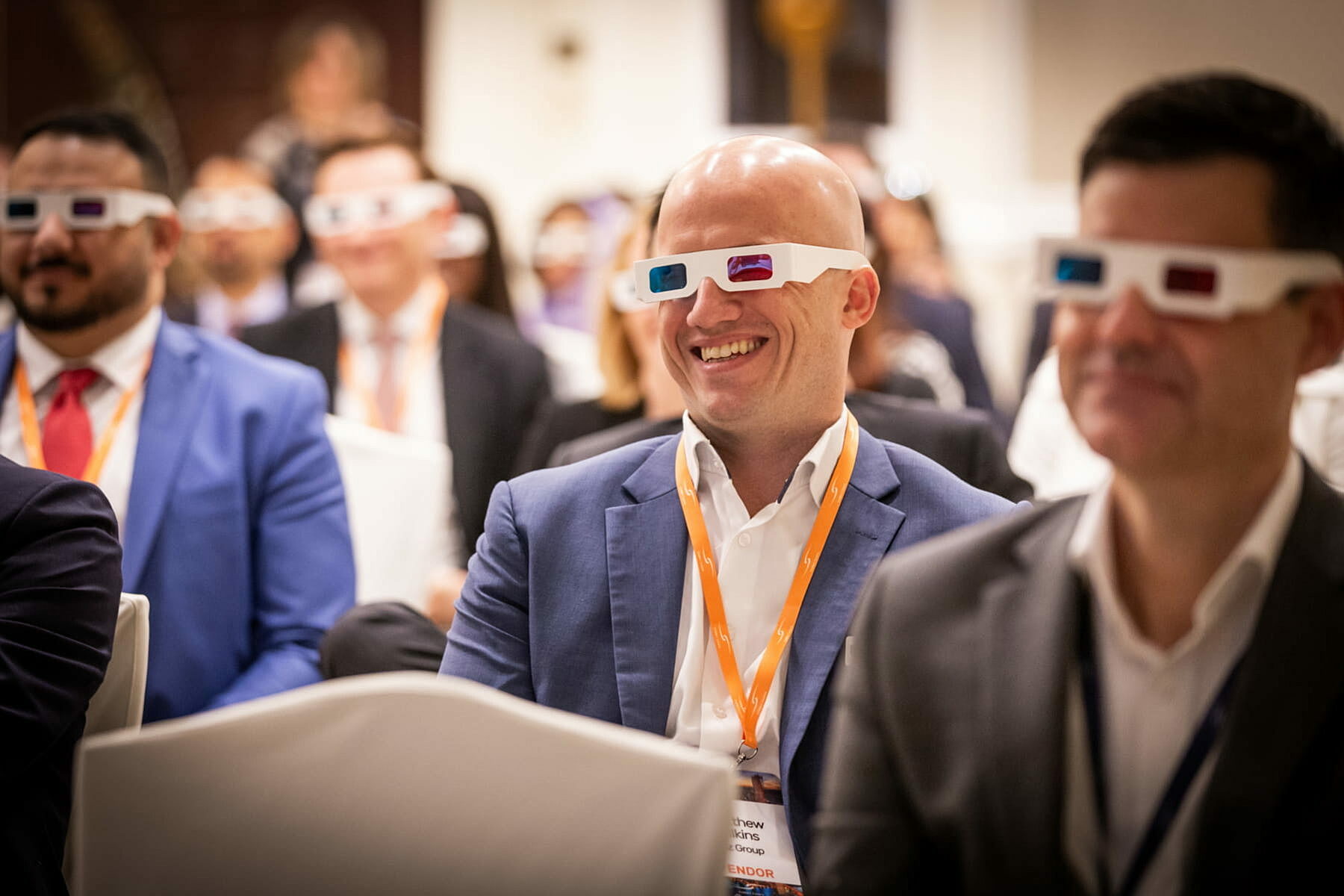 Programme
People Development Summit 2022
Marriott Hotel, Copenhagen
9 - 11 March 2022
2022 Topics & Themes
- The future of work, learning, coaching & mentoring
- Succession planning
- Performance reviews - new trends & Innovations
- Getting the most out of psychometric tools
- Embedding long term behavioural change
- Early & late-career development in a hybrid world
- Identifying & using career paths
- Leadership development
- Building an impactful learning culture

---
For more information and live updates on our speaker programme, join our LinkedIn Group or follow Summit Events business page.

---
Speakers for 2022 to be announced soon
The People Development Summit programme consists of - 2 x keynotes, 4 x TED-style talks + Q&A
2 x interactive Action Learning Workshops
See below for the 2021 lineup - if you have any speaker recommendations, please email eventteam@summit-events.com
Deborah Frances-White
Stand-up comedian, podcaster, screenwriter and corporate speaker
Deborah Frances-White
---
DAY 1 KEYNOTE
INCLUDE YOURSELF
Biography

Deborah Frances-White is a comedian, writer, presenter and coach best known for her hit podcast The Guilty Feminist which has had 60 million downloads in three years. She has recorded the show live at The London Palladium, The Sydney Opera House, The London Coliseum and The Barbican.

Deborah's book The Guilty Feminist is a Sunday Times Best Seller. She is also the creator and producer of BBC Radio 4's GrownUpLand, and host and creator of Global Pillage. Deborah's television credits include Have I Got News for You and Mock the Week.

Deborah is in demand as a keynote speaker, regularly delivering seminars on diversity and inclusion. Deborah also works closely with Help Refugees raising funds and awareness and is an official Amnesty International UK Ambassador.

Presentation Outline

We are most ourselves where we feel included, with our best friends or family. We are most included where we feel we are with our "tribe". It is easy to feel excluded or included only tentatively when we are in the minority. This means that if you're in the minority because of gender, sexual orientation or race in the business world it can be easier to stay on the fringes of the action although your instinct, talent and ideas are telling you to get into the middle of the fray.

We know we need to "lean in" but how, when and can it be done with flair and charisma? Once you've included yourself, can you include others like a leader? Deborah Frances-White, comedian and host of The Guilty Feminist podcast discusses how better to include ourselves, and include others.
Rob Veersma
Global Director Training & Development
Gazprom International
---
STRATEGY GROUP SESSION
The future of work, skills and learning
Biography

Rob J.H. Veersma MSC (1955) is Director Training & Development at Gazprom International in Amsterdam, Netherlands. He is responsible for implementing training programs for Gazprom International, aligned with the competence management system and tailored to local needs. He creates integrated accelerated learning experiences for the assigned population and integrates learning into the community. He applies organisational effectiveness experiences to enable business performance improvement.

He was previously working for Shell International and amongst others he was the Commercial Academy Learning Manager and in that role he was responsible for all aspects of global capability building that enables world-class deal making. Over the years of his 35+ years of experience he was focusing on global onboarding, virtual working, leadership development and portfolio management. He has published often, and given many public speeches on among others, Performance Improvement, Just-in-time-learning, Learning and Ethics, Virtual Working / Virtual Leadership, and ROI of Learning.​

Presentation Outline

Disruptive innovations are creating new industries and business models, and destroying old ones. New technologies, data analytics and social networks are having a huge impact on how people communicate, collaborate and work. Many of the roles and job titles of tomorrow will be ones we've not even thought of yet. What are the skills future generations will need? Preparing for the future we need transforming learning.
Biography

Andrea has led the People function at MVF for the last 4 years and along with her fantastic team is responsible for co-creating and executing a People Strategy and Experience that makes MVF a great place to work. She has over 23 years' experience working in senior, international People roles within film, BPO/ITO, online retail, and online comparison sectors. She is a fellow of the CIPD (Chartered Institute of Personnel & Development) and an EMCC Accredited Coach/Mentor at Practitioner level (European Mentoring and Coaching Council). Ange's passion is people - she is dedicated to coaching and developing colleagues to support organisational growth and help people achieve their personal purpose.

Presentation Outline

PANEL SESSION: The Sunday Times Best 100 Companies to Work For, The Inspiring Workplace Awards, Great Place to Work, Times Top 50 Companies for Women, UK Employee Experience Awards, Engagement Excellence Awards, Investors in People…..

So many awards that recognise so many amazing businesses! But on closer inspection, all of these worthy awards point to the same place - what is happening inside our businesses! In September 2015, world leaders adopted the United Nations 17 Sustainable Development Goals with an achievement target date of 2030. They address the global challenges we face, including poverty, inequality, climate change, environmental degradation, peace and justice. Global challenges that don't simply go away or on pause as we attend to our working week.

Of these challenges, several speak to the need for inclusive growth and education for marginalised groups in society. Yet Talent Strategies and Programmes tend to do the same thing the aforementioned awards do…look inwardly lacking any awareness of the impact that these global challenges will eventually have on the growth of our businesses. If we are to have truly inclusive cultures, then surely that means evolving from 'Best' to also being 'Responsible' too? Companies are located within communities who are facing these challenges on a local level. Join this panel who will be exploring how inclusive cultures can and should be both inwardly and outwardly responsible leading to corporate social value.
Kath Austin
Chief People & Marketing Officer
Pizza Hut Restaurants UK
---
STRATEGY GROUP SESSION
Case Study: 'Make & Mend' Pizza Hut Restaurants' Leadership Academy
Biography

Kath's mission is to build the reputation of careers in the hospitality sector. She works with various bodies to develop hospitality Apprenticeships and qualifications from entry to MBA. By day, Kath is a senior owner of Pizza Hut Restaurants UK, responsible for People & Marketing. By night, Kath lives in Wales and spends her time mentoring local businesses including the national award winning concept 'Crwst'. Kath is also an NED for Bluestone National Park Resort and from March 1st 2021, Chair of the Chartered Management Institute/Wales.

Prior to the Hut, Kath worked for Yum Brands! and also has over 10 years of experience in the financial sector. Kath started her career with British Airways and her early claim to fame was that she won 'Young Cook of Great Britain' and judged Junior Master Chef. Kath has been recognised as an industry leader awarded HR Magazine's 'HR Director of the Year', 'Most Influential' & HR Excellence Awards 'HRD of the Year'.

Presentation Outline

In 2019 when this brief was originally written the biggest threat on the horizon was Brexit, little did we know….

In the mists of time, before Covid and Brexit, the casual dining industry was already facing increasing headwinds that had seen the failure of some well-known brands from a combination of factors including; rising business rates, vat, new levies, wage and food inflation. Pizza Hut Restaurants' response was to adopt an approach that can best be described as 'Make and Mend'. The phrase originates from the Navy and refers to a period of time without assigned duties given to the crew of a ship to focus on fixing things, both themselves and their kit. The Pizza Hut Restaurants literal interpretation of that phrase was to allocate development time away from the day job to focus on personal and professional development. 'Make & Mend' was also a wartime attitude - when times are tough you have to be creative and find solutions from the resources you already have available.

During 2020 our 'Make & Mend' attitude has been truly tested and has proved critical to maintaining an engaged and skilled business. This presentation covers what we have learned during the last few years and how we have prepared the business ready to re-emerge fighting in summer 2021.
Jaimie Stewart
HEAD OF PEOPLE
Cath Kidston
---
STRATEGY GROUP SESSION
Exploring the role HR plays leading employees through periods of challenge, change and economic upheaval
Biography

Jaimie Stewart is an award-winning senior HR professional who has worked for some of the UKs leading retail and hospitality brands. He started his career in the L&D space, where he enjoyed considerable success, before moving into more generalist People leadership roles. As People Director for Social Entertainment Ventures he built their HR function and was part of the leadership team that successfully launched two new competitive hospitality brands. He is currently working in an interim role at Cath Kidston leading the People strategy as part of their transformation from bricks and mortar into a digital first retailer.

Presentation Outline

Using lessons learnt from Cath Kidston's re-emergence as a Digital first retailer following administration, my session will explore the role HR plays leading employees through periods of challenge, change and economic upheaval, focusing on:

• Restoring confidence and trust in leadership
• Facilitating organisational transformation – do we have the right structures, roles and people in place
• Reconnecting employees with culture and values
• Supporting employees navigate through the change remotely by helping them building resilience and fostering belonging
• Rebuilding the employer brand
Alistair Cumming
Head of learning and Development
Lidl GB
---
STRATEGY GROUP SESSION
L&D Feeding the nation - A case study
Biography

Alistair Cumming is the Head of learning and Development at Lidl GB. He over 30 years experience in L&D having worked in both the private and public sector and now in retail. He has a passion for innovative, creative and above all engaging learning solutions which accelerate the speed to competence of the learner.
Alistair is a long suffering follower and supporter of the Scotland Rugby Team having formerly been a player and referee.

Presentation Outline

What was the first invination you had that there was a pandemic about to hit the country? Was it the shortage of toilet rolls and Pasta, was it the large queues outside food retailers? How did you cope? How did your family cope? How did your business cope?
The question is how did the retailers cope, confronted with panic buying on a scale never seen before, retailers were not resourced to cope with the demand, supply chains were stretched but the nation needed to be fed. But what has this to do with L&D?

In order to Feed the Nation Lidl (and many other retailers) had to recruit many thousands of additional staff in warehouses and in stores. As well as the huge task that advertising, recruiting and selecting the staff posed to our recruiting department colleagues, and other HR teams the task set for L&D was to onboard these short term contract colleagues. Usually the onboarding process can take up to 6 weeks with a well tried and tested training plan encompassing most modern delivery methods. The requirement to L&D was to train 2500 staff in 4 hours. L&D had 6-10 days to come up with a training solution.

Who are the key stakeholders that must be satisfied? Where will you find the training material? How will you deliver the training and remain socially distant? What training methods do you use and how do you record the training? These were some of the challenges that had to be overcome to ensure that L&D fed the nation.
It does not stop there, how sustainable is that training and what lessons have been learned that can be taken forward into "Business as usual".
Fiona Allen
People Lead
Girl Effect
---
STRATEGY GROUP SESSION
A great induction starts weeks before the first day of work
Biography

As the People Lead for Girl Effect, an international non-profit, Fiona Allen brings over 15 years HR and hands-on Operational experience including working in Facilities Management, the Public sector, and the hospitality industry.
Fiona is passionate about changing the stereotypical HR image by breaking down the barriers and cutting through the chaos. She does this by ensuring all levels of management fully understand that by investing time and effort in team members across the business, this will increase productivity and the bottom line.
Fiona believes, right now, more than ever, that partnership with all team members within any business will drive performance, increase engagement, and ensure communication is at the heart of everything. Team members want honesty, transparency and to feel valued and listened to; Fiona ensures that happens across the teams for a better and more productive working environment.

Presentation Outline

Your first day of a new job should be fun, relaxed, planned out and calming. You should have all the tools you need to 'hit the ground running' and for a lot of people it is. But if you start drilling down, very few people have had any interaction with their new line manager since meeting them at the interview. And for many, that could have been 3 months ago. You may have received your contract of employment and a job description but apart from that, very little communication has happened. And an induction plan? Well you have no idea!

Getting the induction right is vital for the new team member as well as the company. It sets the tone on how the company values you and shows how much they are willing to invest in you and your future with them. Starting that process weeks, and in some cases months, before new team members start, is key. And it's not as time-consuming or costly as companies think.

In this session, Fiona will be sharing and showing how an engaging and rewarding induction will reap benefits for both the team member and the company. Your team are your biggest advocates and your biggest critics so ensure you start their journey with you as you mean to go on.
Pinda Dhillon
Director of Learning and Development
Centrica Energy
---
STRATEGY GROUP SESSION
Impactful learning culture
Biography

Pinda Dhillon is an executive with 27 years' gained across Sales, Marketing, and Learning and Development. Working across industries from digital start-ups to established blue chips, of which 17 years has been within the telecommunications industry, Three Mobile, EE and BT Consumer. Priding herself as a 'Creative Learning Disruptor', throughout her career, she's championed not just using technology, but thinking differently because of it. Her passion to help equip the colleagues she serves with the tools, mindset, skills, and behaviours needed which, in turn, directly supports organisational growth. Done by implementing an end to end eDigital learning and skills capability frameworks.
She believes Learning Departments needs to not only develop skill but also win the hearts and minds of colleagues through creating a learning culture that prioritises growth and development. This enables colleagues to have the right skills so that they truly are our greatest asset

Presentation Outline

"Develop content and the job is done!!"... Organisations tend to focus very little on colleague experience and learning accessibility. Instead, an over-emphasis on knowledge assessments, learners treated as children – required to prove they've memorised content and over-reporting on activity volume and attendance numbers - instead of the value of the time spent (participation vs. impact).

So how do you move to a virtual/blended learning and improve the learning culture?
Less is more. Modern learners have access to millions of learning moments – YouTube, Ted Talks, Wikipedia, etc. Internal learning must cut through the noise and provide the 'right solution at the right time'.

We all know skills expire. L&D Teams need to educate on how to find knowledge and how to learn, not just the skills themselves. Organisations no longer own the learner journey. Prescriptive checklists of learning 'to-do's' just don't cut it… Affinity for learning and the development of learning communities 'bleeds' into the wider organisations. This helps create brand loyalty from within which leads to brand ambassadors proud to work for their organisations in order to support and serve customers, while also preparing colleagues to develop new skills as organisational needs require.

Pinda will share how you can transform your learning offering and learning experience in order to start the ball rolling for a learning culture that thrives.
Woosh Raza
Head of Human Resources and Learning & Development
Phoenix Futures
---
ACTION LEARNING WORKSHOP
Building Inclusion through Learning: D&I Learning that sticks
Biographies

Woosh Raza is a prolific campaigner who has developed his HR career in health and social care, in a mixture of public, private and 3rd sector settings. Woosh is a well established Senior HR and L&D Professional, having headed up People and Talent Teams across a number of different national settings.

Currently Woosh is the Head of HR and L&D for Phoenix Futures, a not-for-profit organisation whose sole purpose is to help individuals, families and communities recover from drug and alcohol problems. Woosh has a proven track record in transformational HR, supporting organisations in shifting their approach to a more agile, authentic and integrated service delivery model.

Woosh is an expert on, and passionate about Equality, Diversity & Inclusion identifying himself as both a person of colour and a member of the LGBT+ community, and brings this intersectionality and his lived experience to design meaningful initiatives

He tirelessly supports initiatives to dismantle racism in the corporate world, and is a firm believer in 'Authentic HR'. Woosh co-created the CIPD Central London 'Why' series encouraging HR professionals to play a more authentic role in dismantling racism, which received widescale momentum across the HR community.

Woosh is an ILM Accredited Executive Coach, a Chartered Member of the CIPD and currently co-chairs the Central London CIPD Committee. He is also part of Stonewall's BAME Leadership Alumni.

Presentation Outline

Workplace culture is transforming how we see and work with each other. The events of 2020 have created a need for truly inclusive learning that centres our workforce and encourages us all to be our authentic selves. But how do we go about making this transition, and how do we harness the power of continuing professional development to cultivate an authentic experience that impacts behavioural change?

This presentation will discuss the principles we need to develop L&D initiatives that tackle anti-racism, equality and inclusion.We will explore ways in which we can build a shared language to encourage each and every one of us to bring our authentic selves at work and the means by which we can do this safely.

Is unconscious bias training doing more harm than good? How do we navigate through new concepts such as racial gaslighting, microaggressions and anti-racism? And how we do bring all of our people along with us on this journey? Just some of the questions we will seek to explore in this interactive session, which will help us all to develop inclusive workplaces and centre diverse voices.
Sara Burgess
Global Senior Learning & Development Manager
All Saints
---
ACTION LEARNING WORKSHOP
Tough Times Don't Last, Tough Teams Do.
Biographies

Sara is the ultimate people person. An award-winning people director, business psychologist and executive coach with over 10 years HR & L&D experience in retail and professional services. Following four-years honing her knowledge and expertise as a practising business psychologist, Sara has returned in-house to her retail roots to lead L&D strategy and delivery for iconic British retailer ALLSAINTS. Active in the L&D community both as a speaker and mentor, Sara can be found musing about all things development on Twitter as @SaraJanePsych.

Presentation Outline

Most organisations have faced challenges throughout 2020 that they could never have expected, which means teams have played a part in facing those challenges too. Human beings are arguably the most adaptable creatures on earth, but what we're not great at is dealing with constant change or uncertainty - and there have been bucket loads of that lately! Using the latest workplace and psychological research, plus her experience of leading and delivering a resilience training programme for ALLSAINTS during lockdown, Sara will show you how to approach developing not only your team's ability to bounce back during challenging times but also to have more psychological flexibility when dealing with uncertainty. Sharing some the successes and challenges of taking a resilience-focused approach to training, Sara will help you will leave this workshop with a blueprint for building and keeping resilient teams.
Biography

Natasha Wallace is the Founder and Chief Coach of Conscious Works, a leadership and personal development business specialising in wellbeing. As a former HR director, Natasha left paid employment having reached burnout. It led her to recognise that self-care and being more 'conscious' is essential if we are to thrive. Natasha now gets leaders to revisit how they lead – themselves and others. Natasha is passionately dedicated to 'inspiring a well world of work' and is chair of the Engage for Success Wellbeing Thought and Action Group.

She believes that through getting to know ourselves and our people better, we will create a more enjoyable, productive and responsible world of work.

Presentation Outline
Biography

Your company has a greater purpose. Unite around it using music. Through collaborative songwriting, performance, and entertainment we use the science of music to inspire creativity, strengthen connections, empower teams, and build a deeply unified corporate culture. SongDivision has worked in over 35 countries, and 15 languages. Since March this year, SongDivision had delivered over 250 virtual events to 25,000+ people.

Presentation Outline

You don't want to miss this one — The People Development Summit Social, powered by our good friends at SongDivision. Including the Rock & Roll Game Show. Hosted by world-class musicians who have toured and recorded with acts like Florence & The Machine, David Guetta, and The Killers. Witness first-hand how SongDivision enriches organisational culture, strengthens team bonds, and increases positivity using the science-backed power of music.
Register your interest in the People Development Summit 2022

9 - 11 March, Marriott Hotel, Copenhagen
Submit your name and email address and a member of the Summit team will send you further details including:
- the confirmed list of attendees
- instructions on how to apply for a delegate place
- sponsorship options
Your form has been submitted successfully.