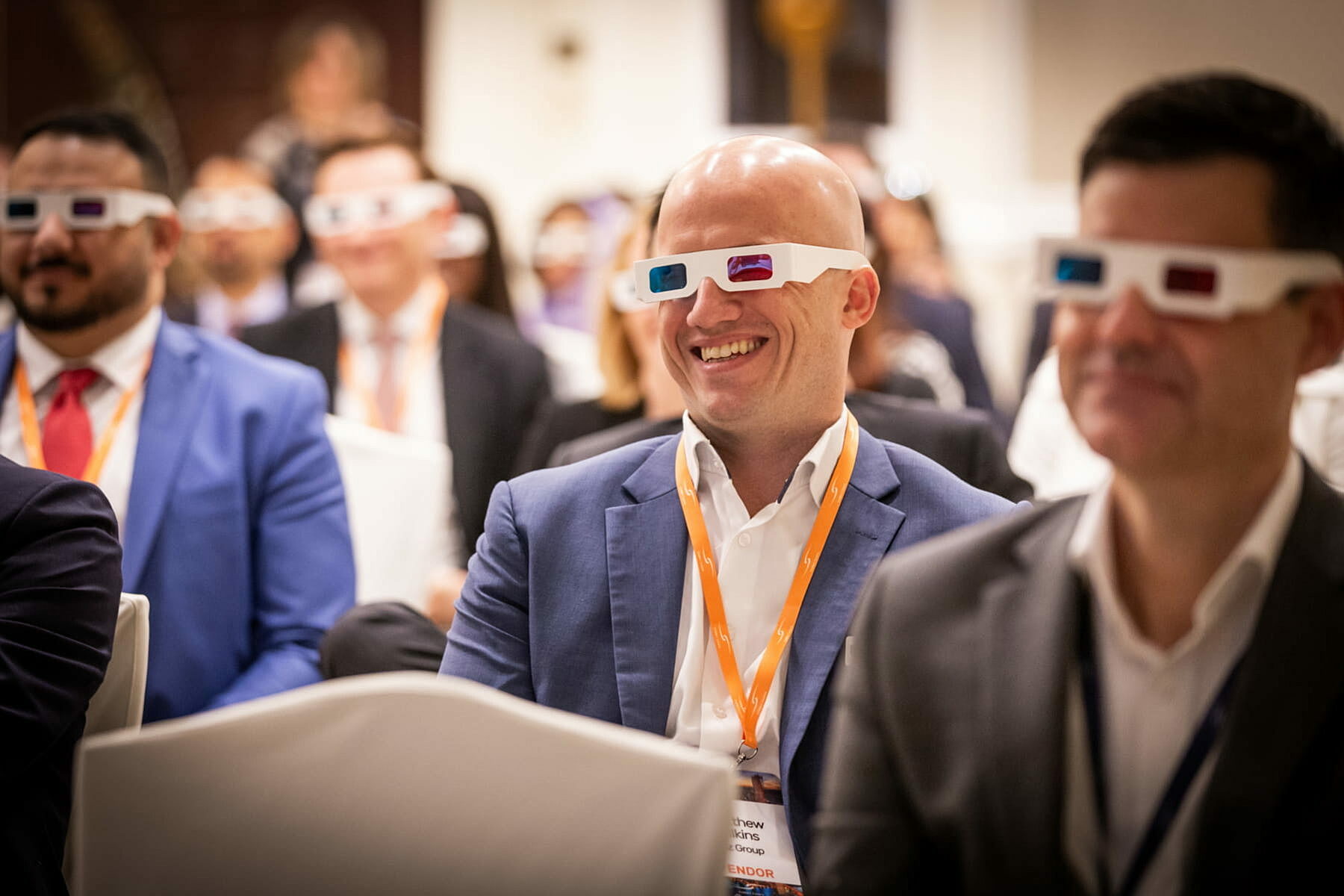 Programme
People Development Summit 2024
13-15 March 2024, InterContinental Madrid
2024 Topics & Themes

- HR Burnout Crisis
- Creating a learning culture
- Retaining top talent
- Digitalisation of learning
- Creative usage of L&D tools
- Mental health and wellbeing strategy
- Remote learning solutions
- The future of the workplace
- Delivering L&D on a restricted budgets
- Multi-generational workforce
---
The People Development Summit programme consists of - keynotes, TED-style talks + Q&A and interactive Action Learning Workshops
If you have any speaker recommendations, please email eventteam@summit-events.com
For more information and live updates on our speaker programme, join our LinkedIn Group or follow Summit Events business page.
---
See the speakers who attended 2023
Biography

Keith is a performance coach with a rare and extensive practical coaching background in both elite sports and business. The highest qualified level of athletics sprints coach, he was Great Britain National Sprints Coach for over a decade driving both Olympic and Paralympic development, as well as a personal coach to European and World Junior medallists, athletes to European, World and Olympic Games and Paralympic champions. This same performance coaching skill has been welcomed by organisations large and small all around the world. His corporate interventions have evolved from coaching programmes to specialising in conversation skill development with a focus on generating thought and raising awareness in others to support development, enable choice and sustain performance. Athletics achievements include:

- Great Britain National Sprints Coach – Olympic programme for 5 years
- Great Britain National Paralympic Sprints Coach for 6 years
- Great Britain Team Coach at 5 x Paralympic Games
- A personal coach to over 20 x international athletes, including 3 x Olympics and 8 x Paralympics

Keith has combined his coaching and storytelling skills with principles and experience to become more than motivational. Starting from each client's unique context, he designs and delivers engaging, thought-provoking keynotes that draw in the audience and challenge each member to take their unique next step forward. These cumulative next steps are the added value difference that Keith brings. After decades of designing performance programmes for elite athletes, Keith is enjoying designing corporate interventions for those who are serious about their performance.

Presentation Outline

Enabling development and elevating performance becomes relatively simple when we have the necessary conversations in the right way. Simple, not easy. People development is challenging, however we don't always help ourselves.

Organisations need to appreciate the fundamental connection between development and performance. Then they need to ensure their leaders have the requisite conversation skills to support sustained performance and development. Here's the tricky bit – most leaders think they're already good at this stuff. So it requires a different approach.

There will be no complicated theories, systems or processes in sight. Those things all have their place, however at the end of the day, people development will always come down to a conversation.

This highly interactive talk will focus on some critical albeit well-trodden areas, but from a different perspective, and give insights into how our conversations need to evolve in order to support people to become the best versions of themselves. Be prepared to think a little bit differently.
Biography

Leanne is a highly experienced learning and organisational development professional who has been working in the field for over 15 years both in the public and private sectors.

She is currently Head of Learning and Development for two large London NHS Trusts, with a key focus on building a culture of inclusion and compassion through learning and development interventions.

Leanne has studied psychology, coaching and mentoring and strategic HR at postgraduate level and is passionate about continuous learning and widening participation in professional careers, breaking down barriers so that colleagues and our communities can achieve their full potential.

Presentation Outline

• How the NHS has listened to colleagues about what matters to them most in the workplace
• Sharing the key themes and considering how we can all learn from and further embed these in our organisations.
• How can we make all our workplaces 'the best place to work'?
Biography

Diane Whelan is the Head of Learning at Prescient Healthcare Group, a global Biopharma Product and Portfolio Strategy Partner. Brought in to work with the Chief Strategy Officer help shape the future of the business, her remit is to build a Prescient Academy and culture of continuous development and growth. Diane has a wealth of global learning experience, across many sectors, gained in both corporate roles, and working as a consultant in leadership and management development. She has worked within Professional Services for the last ten years, building consulting, leadership, professional and business development capability. Diane holds a Masters Degree in Management Learning from Lancaster University, is a Fellow of the Learning Performance Institute and a Chartered Member of the CIPD.

Presentation Outline

I suspect most of you are far too young to remember the song 'I Can't Stand the Rain', sung by Ann Peebles in 1973. If I could sing, my song would be 'I Can't Stand to Train'.

You might think this is a bit of an odd thing for a career L&D professional to say. In my experience, 'training' can be seen as the panacea for all ills in some organisations. It has the placebo effect of making people feel good but has limited real or significant impact. And I want L&D to make a lasting difference…

When I joined Prescient Healthcare Group in October 2021, as their first Head of Learning, I was given the ideal opportunity to do just this. To move from a training to a development and growth culture. The Board and Investors recognise L&D as one of the strategic levers to achieve organisational growth and success. As such, I report to the Chief Strategy Officer. This has opened up a whole world of different opportunities and conversations. Join me to hear about our journey to date, warts and all, and participate in the debate about the future of learning and where L&D Teams can make most impact.
Biography

Ruth completed her nurse training n 1985 and has worked in acute and community healthcare settings in clinical roles, before developing her skills and knowledge around education, training and workforce development. Ruth has worked in regional and national teams developing education and career pathways, which has developed her passion of lifelong learning and addressing inequalities in education. Ruth and her family made the decision to move to Northumbria in 2019 and joined Northumbria Healthcare NHS Foundation Trust as Head of Education, Learning and Organisational Development.

Presentation Outline

As a multi -site organisation covering 5,100km2 We have a need to be dynamic, flexible and interprofessional in delivering high quality learning and education to our whole workforce (c11,000). As a Teaching Trust we work with over 15 universities and colleges offering placements (healthcare undergraduate and postgraduate learners, and non-clinical students) to enable progression in their career. We focus on quality learning environments, linking safer education outcomes to safer patient care, embrace inclusive compassionate leadership in our culture and look to train, up -skill and re-skill for our future service needs (workforce planning outcomes). We are investing in virtual learning resources and the digitalisation of our workforce to be best prepared for the future. We will share our experiences, learning and interventions that deliver on our organisational strategy.
Biography

With experience working in PLC's, Private and Public Sectors, Adam is a Global Director of Learning, Talent, Development and Communication, with extensive experience in combining digital learning experience with every day business activity. Passionate about helping leaders to achieve their full potential whilst using his energy and enthusiasm to make them, their teams and wider organisations operate effectively.

Presentation Outline

- Following the last few turbulent years of substantial change, has the learning landscape changed?
- Has it changed to for the better or the worse?
- Are we the People Development community still trying to push/encourage a way of learning that is no longer relevant or wanted?
- Could 2023 be the year that LMS's truly die?
- In this session Adam tells the story of HRA Pharma, the rise and fall of the people development & talent strategy and steps he and the team have taken to stay on trend with the needs of the business.
Dr Penny Holborn & Alison Adams
Head of Faculty, Data Science Campus/Head of Data Science Capability, Data Science Campus
Office for National Statistics
---
SPEAKER
Upskilling the Public Sector with data skills for the future
Biography

PENNY joined the Data Science Campus in September 2021 as Head of Faculty.

Before joining the Campus, she was a Senior Lecturer in Mathematics and Data Science at the University of South Wales and was the academic lead for the award-winning Welsh Data Science Graduate programmes. She has a wealth of experience in course development, curriculum design and stakeholder management.

Penny has a PhD in Mathematics and a BSc in Mathematics, Operational Research and Statistics from Cardiff University. She is a Fellow of The Higher Education Academy and holds a Post Graduate Certificate in Developing Professional Practice in Higher Education.

Penny has a passion for promoting women in STEM and actively engages in several initiatives and events in support of this

ALISON is Head of Data Science at the Data Science Campus. As a HR and Learning Development professional Alison has over 20 years experience of working in the public and private sector developing leadership training programmes, emerging talent programmes and developing competencies and professional standards in Data Science. Alison's current remit with her team is to build data science capability across the public sector through developing a range of programmes and community engagement.

Presentation Outline

'All of us need to be data confident and we all need to be skilled up further to do that' Alex Chisholm, Chief Operating Officer, Civil Service, Civil Service World, 2022.
There has never been a more crucial time in the public sector for where data and understanding data is so crucial. Data has been a lifeline during the global coronavirus pandemic. The fact that governments, businesses, organisations and public services were able to share vital information quickly, efficiently and ethically during the pandemic has not only saved lives but has enabled us to work from home, keep the economy running and stay connected with loved ones during a period of unprecedented disruption. We need to learn from these events and drive a radical transformation of how the government understands and unlocks the value of its own data to improve a range of public services and inform decisions at scale, through a whole government approach.

The Data Science Campus Capability Team @ONS have engaged and trained over over 5,000 people from 5 year olds to UK Government Permanent Secretaries providing learning for awareness through to expert.

In this session we will talk you through our vision and mission to aid the public sector to tackle challenges of a data rich world, enhancing decision making and improving delivery through data science for the public good utilising the exciting and innovative learning and development products that we deliver. How providing data literacy and upskilling will enable the public sector to be confident with data and understand its value. Hear about the work we have done across the Data Science Community both in the UK and internationally to support and develop the skills required and in particular the development of career and competency pathways and frameworks and much more
Kim Greenhill
VP for Centre of People Excellence
Ideagen
---
DAY 1 KEYNOTE
What is really connecting people to your business?
Biography

Supporting organizational performance through culture and people strategies in Healthcare, FMCG, Policing and Tech Kim uses her global experience and 10+ years of leadership expertise to help business create winning cultures in organizations of all shapes and sizes.

With a passion for making a difference Kim enjoys empowering organizations maximize the impact of their time and effort to create a value proposition that delivers a sense of community and ambition that creates collective wins for both the business and the people within it.

Kim also places high value on the power of development and enjoys supporting the growth of others and creating new thinking through professional collaborations.

Presentation Outline

Todays working world would have seemed unimaginable some 3 years ago yet here we are having adopting technologies, practices, flexibility, and difference in our strides with little regard for the cultural transformations we have made by circumstance rather than design. The unimaginable was achieved and now as many organizations are bypassing the lessons and advancements our working practices have gained from the pandemic and are becoming being tempted to revert to old ways – are you in that boat?

The 'new normal' has reset the expectations of our global workforces, and the real challenge for People Teams today is to adapt and develop our approaches to compete against an unprecedented demand for talent. This includes maintain high engagement of current colleagues and being a destination employer that prospective colleagues are motivated to join.

In this session will talk about the importance of taking an insight based, planned approach to culture and engagement plans in order to make the greatest impact on your organization and on your people. There is no silver bullet but there are some core principles that will enable you to insightfully shape the right plans for your business and promote some new thinking and debates along the way.
Lynn McSeveney
Director, People and Culture
Talentologie
---
SPEAKER
Strategic Workforce Planning - It's more than just the numbers
Biography

Lynn has a worked in senior roles across the financial services industry for a number of years She has a wealth of experience across the full Talent Lifecycle and is obsessed with developing a positive experience for colleagues. She sees her role as one which supports transformation through people! The starting point is business strategy and from there I build a culture and environment which can help attract and retain the talent required to deliver meaningful business outcomes.

Presentation Outline

Join this interactive session to learn how to bring to life your organisation's workforce planning activities alive - moving the exercise from the spreadsheets to creating a skills powerhouse.
Donna Johnston
Learning/Talent and Development Leader
Imperial Brands
---
SPEAKER
Bringing commerciality to learning
Biography

Donna is passionate about learning and coaching and her key focuses are on helping people realise their full potential. She has spent 20+ years in Human Resources in various organisations, she is passionate about lifelong learning and has experience in Finance, Professional Services and FMCG in various Global senior roles. Donna is a frequent contributor to academic and practitioner conferences. She has a proven track record within large complex and matrix organisations. Her early career was a mix of commercial, talent and learning roles.

Presentation Outline

Donna will be speaking about bringing commerciality to learning. She thinks that the lack of understanding in our businesses about how learning affects productivity improvements, culture change, organisational growth means that L&D may unwittingly arrive at a place where they can no longer support good practice and add true value. Within the current climate in which we operate where businesses are tightening their belts and yet at the same time wanting to grow their organisations and support workforce development. Donna believes that L&D professionals need to think differently. We need to strive to communicate and deliver business benefit.
Register your interest in the People Development Summit 2024

March 2024
Submit your name and email address and a member of the Summit team will send you further details including:
- the confirmed list of attendees
- instructions on how to apply for a delegate place
- sponsorship options
Your form has been submitted successfully.