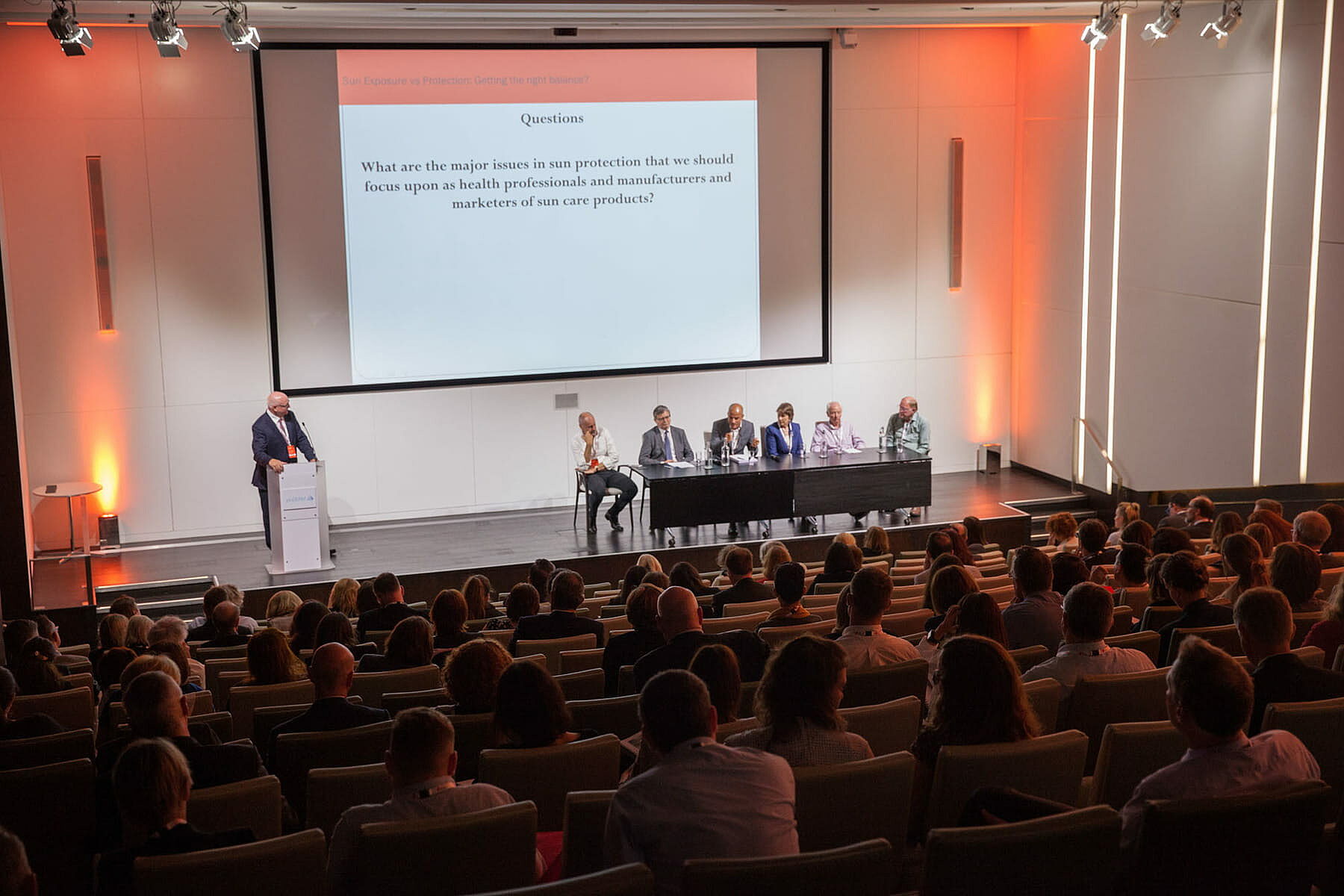 Speaker programme
2021 speakers are yet to be confirmed, but see below for confirmed topics and previous conference speakers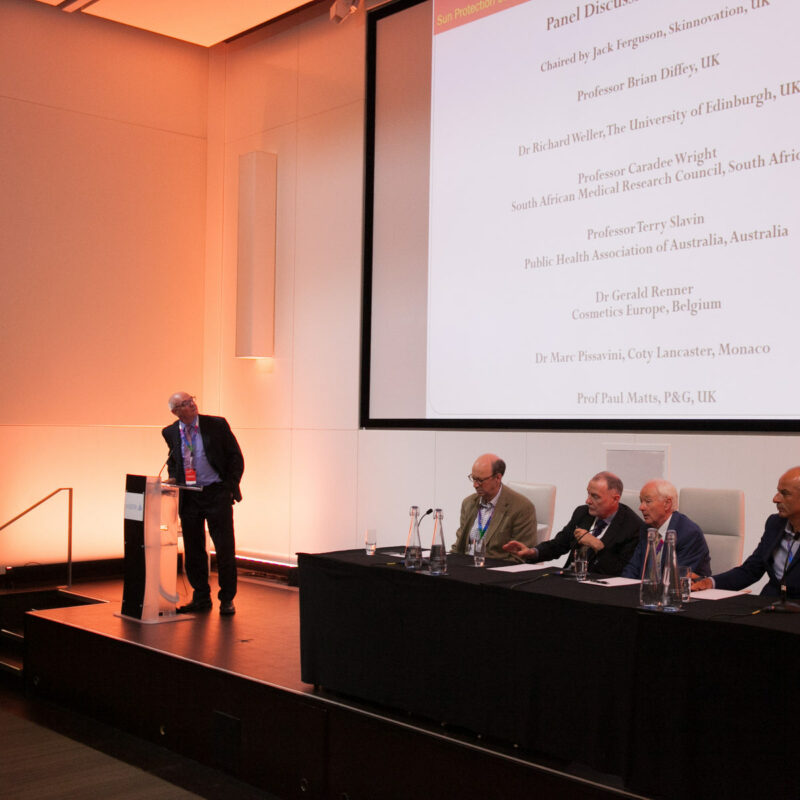 2021 Session topics
1. Looking forward to future innovations in sun protection
2. Major issues impacting sun protection concepts and product development
3. Innovative technologies: the source of innovation in sun protection
4. Satisfying consumer needs in performance, testing, and communication
---
Topics that will be covered include:
- The risks and benefits of sun exposure
- Pollution and sun exposure
- How much and what type of protection?
- Protection from UVA and skin cancer
- Sun product testing update and look to the future
- Impact of sunscreens on the environment
- Understanding sun protection needs of the consumer
---
2021 Speakers
See below the speakers confirmed for 2021 so far
Dr Jack Ferguson
Director
Skinnovation, UK
---
SCIENTIFIC PROGRAMME ORGANISER
Scientific programme organiser for the Sun Protection, Anti-Ageing and International Skin Protection Conferences.
Biography

Jack Ferguson obtained a BSc honours degree in Biology with Chemistry and a PhD in Bioengineering, both from Strathclyde University, Glasgow. He has worked in the cosmetics industry for over 20 years. After spending some time with Beecham Products in Leatherhead, he moved to the Boots Company in Nottingham, where he worked for 15 years. His final responsibilities were as Head of R&D Services, Boots Contract Manufacturing. During his time there he was joint developer and promoter of the Boots UVA star rating system.

From Boots, Jack moved to Oriflame International, Dublin, and was R&D Director there for five years, before leaving in 2000 to set up a new company, Skinnovation Ltd. Skinnovation provide contract product development services for clients and focus on sun and skin care products and also on product claims support for advertising. Jack also works as cosmetics consultant for ITV, providing technical and scientific advice on claims support for television scripts in advance of broadcasting. He has been active in the Cosmetic Trade associations, particularly in the sun care area, and was the chairman of the Colipa 'Sun Protection Measurement' TF 1990-1998 and chairman at the time the Colipa SPF test was developed and published.

Presentation Outline

Coming soon
Prof. Mark Birch-Machin
Professor of Molecular Dermatology and Faculty Dean of Business Development
Newcastle University, UK
---
KEYNOTE SPEAKER
21st Century stressed skin; what can we do to help both now and in the future?
Biography

Mark Birch-Machin, PhD, is Professor of Molecular Dermatology at Newcastle University (UK), Institute of Cellular Medicine, Associate Dean of Business Development for the Faculty of Medical Sciences and Faculty Ambassador for the National Innovation Centre for Ageing.

He previously worked at Universities in Oregon, Paris and Toronto. He is a member of the Editorial Board of several international dermatology journals, and national/international advisory boards (including cosmetic companies) and grant committees for skin research and UK cosmetic regulation.

His research group focuses on the response of human skin to the environment, particularly within the context of skin ageing and has been funded over the last 30 years by UK research councils, charities, UK government as well as global companies. He has played a pivotal role in pioneering the use of mitochondrial DNA as a biomarker of sun damage in skin. He has an interest in understanding the role of mitochondria in UV and environmental-induced oxidative stress, skin cancer and the relationship between oxidative stress, nutritional status, pigmentation and skin aging as well as the science and use of sunscreens. He has published extensively including 3 different nature journals.

He has co-founded two spin out companies (Canadian and UK) and is also a co-inventor on multiple patents including the invention of a dermatology product that sold in over a 1,000 stores in Canada. He has a long established track record of working with international media for more than 20 years.

Presentation Outline

Our skin is subject to an increasing variety of stress in the 21st century from both external and internal factors that have the potential to cause damage- including premature ageing. The external factors described include, increasing exposure to sunlight, environmental pollution as well as the controversial contribution of electronic pollution involving blue light. The interaction of the whole light components of sunlight (i.e., UV, visible light (including high energy blue light) and infrared light) as well their interaction with the other external stressors of skin are being elucidated but there are still areas where it is unclear. There is the additional scenario of how this dynamic of external stressors interacts with the internal factors of stressed skin such as lifestyle and diet. We also consider what interventions and wearable technologies can be used to help prevent stressed out skin, both now and in the future as part of the increasing personalised approach to skin protection.
Biography

Brian Diffey is Emeritus Professor in Dermatological Sciences at the University of Newcastle. His career was spent in the NHS, where he was Professor of Medical Physics and Clinical Director in the Newcastle Hospitals. His involvement with sun protection has spanned almost half a century and his interests include the measurement of personal sun exposure, its effects in normal and diseased skin, and ways to minimise excessive exposure, especially through the use of topical sunscreens.

He has advised a number of bodies on sun exposure and skin health including the World Health Organization, Department of Health, and the Cancer Research UK SunSmart programme, as well as patient support groups concerned with sun-related diseases such as vitiligo and xeroderma pigmentosum.

He invented both the UVA Star Rating for sunscreens in conjunction with Boots in the UK, and the Critical Wavelength adopted by the Food & Drug Administration in the USA as the sole measure of broad spectrum protection.

In 1999 he was awarded the Medal of the Society of Cosmetic Scientists for his contributions to suncare, and in 2011 was honoured at the International Sun Protection Conference for significant innovation in the field of photoprotection.

He is an honorary member of the British Association of Dermatologists, the Swedish Society for Dermatology and Venereology, and the European Society for Photodermatology.

Presentation Outline

I have researched and published about sunscreens for nearly 40 years and presented at almost every meeting of the Sun Protection Conference since 1995. In this talk, I want to reflect on some of the topics I have spoken about at the conferences and explore what has, and has not changed over that period. In particular, I shall examine whether influencers have always had a positive impact on the public's understanding of sunlight, sun protection and sunscreens, and what myths that were extant 30 years ago persist to this day.
Biography

Antony Young is emeritus professor of experimental photobiology at St John's Institute of Dermatology, King's College London, London, UK. He has a long-standing research history on the adverse and beneficial roles of solar ultraviolet radiation on human health. This includes the effects of sunscreens on a range of biological outcomes. In particular, their ability to inhibit endpoints other than erythema, including DNA photodamage and photoimmunosuppression. Prof Young has also studied the effects of sunscreens in "real life" including their impact on vitamin D synthesis. These studies reflect an interest in public health as does Prof Young's membership of the Environmental Effects Assessment Panel (EEAP) of the United Nations Environment Programme (UNEP).

Presentation Outline

Coming soon!
Biography

Stephan Bielfeldt has a degree in Bioengineering. He is Vice President of Science & Consultancy at proDERM Institute in Hamburg / Germany and responsible for the development of new skin research methods, as well as consulting for customers in the field of clinical study design and methodology. Stephan has been working in clinical research for more than 30 years. Special fields of expertise are photobiology / sun protection and in-vivo confocal Raman spectroscopy. His list of publications contains more than 100 scientific publications. In addition, he is a member of professional societies, such as the scientific working groups of the German Society for Scientific and Applied Cosmetics (DGK) and the Society for Dermopharmacy (GD). As a member of the ISO TC working group (WG 7) Sun Protection Test Methods, he also works on the international standardization of sunscreen testing methods.

Presentation Outline

Recently updated ISO methods cover SPF, water resistance and UVA protection measurements. This is a solid base. However, new challenges are already coming up. All the mentioned methods have received criticism, as they are based on invasive skin irradiation with UV-B light. Consequently, huge worldwide efforts have been made to find non-invasive alternatives, which has resulted in the setup of a large international ring study (ALT-SPF).

The sun emits large amounts of short wavelength visible light and infrared. Both wavelength-ranges are considered to be harmful to the skin, but good protection with sunscreens is difficult to obtain. We present what the future might bring, regarding these new challenges.
Biography

Johnathan has worked for 15 years in the cosmetics industry, in fields ranging from new product research with novel materials through to developing and running clinical studies to provide claims support data for product launches. In a corporate environment he worked across multiple project areas at any one time to translate the needs of the individual teams into executable study designs and plans. Research areas worked on include moisturisers, cleansers, and hair removal methods (shaving, waxing, epilation, depilatory creams, light-based hair removal).
Photography has always been one of his passions and a focus area for his research is UV imaging, and how it can be used to visualise skin and sunscreens. His research often requires him to build equipment to help with work where nothing suitable is commercially available.

He is also experienced with the operation and use of a wide range of skin testing equipment including Corneometer, Sebumeter, TEWL, Colourimetry, Confocal In vivo Raman Spectroscopy, Photographic Imaging techniques, skin grading, tape stripping and SEM, and clinical test design.

After building his expertise in the skin methods field Johnathan also became more involved with teaching the science of skin measurement, to audiences from Dermatologists to Journalists and Marketing groups.

Johnathan graduated from Durham University with a BSc in Chemistry in 1994 and went on to do a PhD in Surface Modification and Analysis. He then decided to stay on for an extra 3 years as a Post Doctoral research assistant. During this time, he developed a strong Analytical chemistry background with a wide variety of surface analytical techniques (XPS, Auger, ToF SIMS, Raman, ATR-IR, SEM and TEM, AFM) for materials analysis, along with cold plasma treatment of materials for the manufacture of metal surfaces and ultra low energy materials.
It is the cross discipline background he has gained from working at the boundaries between chemistry, physics and engineering, which are now applied to his assessment of skin.

Presentation Outline

Understanding the behaviour of sunscreen formulations before, during and after application is key to optimizing the protection they offer. In addition to creating compelling visuals for educating consumers about the importance of sun protection, determining where and how to apply the products and how long they last after application, the structure and composition of the formulation itself is important when optimizing its properties. Ultraviolet (UV) imaging provides a direct means to observe sunscreens and their components both on the skin and in the formulation. However, this technique presents some unique and complex challenges. This talk will cover how UV imaging can be used to image different sunscreen components and behaviour, both within the formulation and after application, as well as covering areas for researchers to consider when using the technique.
Biography

Andrew is a consultant dermatologist and Mohs micrographic surgeon in Canterbury, where he leads the skin cancer MDT. Dermatology training took place in Nottingham followed by a Mohs fellowship in Cardiff.

He is a Fellow of the Royal College of Physician in London and a member of the European Association of Dermato-Oncology, the Dermatologic and Aesthetic Surgery International League, in addition to the British Association of Dermatologists and the British Society for Dermatological Surgery.

In 2010 he spent a year in Durban, South Africa where he helped set up a skin cancer centre, offering free treatment for those who could not afford care, from which he trained the local dermatologists in both basic and advanced skin cancer surgery.

He launched Altruist Dermatologist Sunscreen in 2015 with the aim of reducing the incidence of skin cancer through the increased use of high-quality sunscreen. Since then Altruist has become the leading on-line sunscreen brand in the UK. As a result of this project, Andrew has learned that there is another world of formulation and sunscreen science along with rising to the challenges of communicating a consistent message to the public.

Presentation Outline

Prior to 2003 I was just a regular consumer; using sunscreen if I was going to be outdoors for a long time, on a sunny day or on holiday. Commencing training in dermatology made me realise the importance of regular sun protection. As a consultant and being chair of the skin cancer multidisciplinary team exposed me to the very high levels of skin cancer and this led, in 2015, to the launch of Altruist Dermatologist Sunscreen with the aim of reducing the incidence of skin cancer through the increased use of high quality sunscreen.

This presentation will share many of the lessons learned in removing the barriers to the use of sunscreen and how to articulate the sun protection message to regular consumers in a meaningful way. This talk will bring experience from the perspective of a consumer, dermatologist, marketeer and producer - attempting to bridge the gap between them and articulate a consistent message that will result in the increased use of sunscreen and the reduction in the burden of skin cancer.
Biography

Paul joined Procter & Gamble 1988 and has spent the majority of his career in R&D conducting research and developing methods to feed the technology pipelines of brands such as Olay, Max Factor, Dolce & Gabbana, SKII, and others. As Research Fellow, he has specific expertise in measurement / modelling of many aspects of skin structure, function and appearance, sun protection and the psychology of perception of skin, among other areas.

He is Visiting Professor to the London College of Fashion and University College London School of Pharmacy and the Chair of the Cosmetics Europe (European Trade Association) Expert Team: Regulatory Aspects of Sun Protection and a Fellow of the Royal Society of the Arts and Royal Society of Chemistry. He is a proponent of Community Dermatology and involved in and highly passionate about several projects in Africa related to skin disease and its prevention / treatment using low-cost, sustainable materials. Paul is married with three children and, when he has time, a fanatic UK SCUBA diver and BSAC instructor.

Presentation Outline

Coming soon
Sébastien Miksa
General Manager
HelioScreen
---
SPEAKER
Latest news about evolutions and revisions of ISO 24443 method for reliable determination of sunscreen UVA photoprotection in vitro
Biography

Mr. Sébastien Miksa started his career at L'Oréal in the services of R&I Lipsticks, Foundation and Photo-protection and he is currently the General Manager at HelioScreen, an international company dedicated to in vitro sunscreen testing. Involved in sun protection evaluation for more than 10 years (SPF, UVAPF, Critical Wavelength, etc.), he acquired a large knowledge in this field and published several articles such as robotic spreading, reproducible sandblasted PMMA plates SB6, in vitro methods for Blue Light, Infrared, SPF multi-substrates approach, etc. In addition, he is the Project Leader of the ISO 24443 revision and an active member of AFNOR/S91KGT07, CEN/TC392/WG004, ISO/TC217/WG7, FEBEA/GT - Quality of efficacy measures of sun protection products, and BIPEA/Technical Group - Sun protection products.

Presentation Outline

Nowadays, a compliance to international official methods is mandatory for reliable sun protection results including SPF (Sun Protection Factor), UVAPF (UVA Protection Factor), CW (Critical Wavelength), Water Resistance, etc. While the in vivo testing methods were initially published as reference methods in the past, today preference should be given to in vitro testing methods delivering equivalent results, as in vivo methods raise ethical concerns.

In this way, the ISO 24443 initially published in 2012 is one of the major in vitro method for determination of sunscreen UVA photoprotection worldwide. This alternative method to the in vivo UVA method (according to ISO 24442 norm) was reviewed and improved during these last years with a publication target date for the end of 2021. Therefore, the international in vitro method ISO 24443 will be presented in detail including the latest modifications, evolutions, and revisions through a preview of final systematic review.
Biography

In her current role, she defines Global compliance strategy and business risk and represents Edgewell to governments and trade organizations in Global markets. She manages the Regulatory environment for key EPC brands and new acquisitions. Her portfolio includes managing compliance of Sun Products in cosmetic and OTC drug landscapes. She is currently a representative on several Cosmetic Europe's SCT and ET groups including the Sun Advisory Group for Sun Protection (SAG UVP) and CTPA's Sun Products Working Group. Furthermore, Sandra chairs the Cosmetic Advisory Group for CEN at NSAI in Dublin. For the past five years, she has lectured courses on 'European Regulatory Compliance for the Personal Care Products Industry' to US students for the Centre for Professional Advancement (CFPA).

For two years prior to joining Edgewell, Sandra worked as a Regulatory Consultant for Europe specializing in Sun Products, Consumer Goods and Biocidal products. She spent 22 years working for Hawaiian Tropic Europe Inc. as Operations Manager.

Presentation Outline

Coming soon
Dr Marc Pissavini
Director Sun & Science Technologies
Coty, Monaco
---
SPEAKER
An update on ISO sun product testing and a look into the future
Biography

Marc Pissavini is a chemist Ph.D. He started his career in the cosmetic industry in the field of Analytical chemistry in 1997. Quickly (1998), he's joined the Sun Research Department of Coty-Lancaster Group. Since 2008 hes been the Director of the Basic & Applied Research, specialised in In Vitro spectroscopy and in the study of the roughness of supports.

He has a Ph.D, participates to elaboration of publications, norms and conferences which innovate in this field knowledge. As an active actor on the subject, he also participates on different task forces and at different groups of specialists and industries as AFNOR, or FEBEA for many years but also as chairman in the In Vitro Task force for Cosmetics Europe and also for ISO in the SPF In Vitro group since 2012.

Presentation Outline

Coming soon!
Biography

Uli Osterwalder studied chemical engineering at ETH Zurich, Switzerland and also at the University of Houston in Houston, Texas. He joined Ciba-Geigy in Basel in 1979 where he first developed a phosgene generator in central process development. He later developed his leadership skills in project management and process analytics. At Ciba Specialty Chemicals, Uli Osterwalder helped establish new business areas in Fabric Care and Personal Care. After the acquisition by BASF SE, he became Senior Marketing Manager and Scientific Advisor in Sun Care business in Ludwigshafen and Duesseldorf.

In 2016 Uli Osterwalder returned to Basel and worked for DSM as Senior Scientific Adviser Suncare for two years. In 2018, he founded his own company, Sun Protection Facilitator GmbH, and is committed to further improvements in sun protection. Uli Osterwalder has been working for ISO on the development of new UV protection assessment methods since 2006 and has been chairing the Technical Committee for Cosmetics (ISO TC 217) since 2020. He is the author and co-author of numerous scientific articles and book chapters on sun protection and the co-editor of a series of papers on Challenges in Sun Protection in Current Problems in Dermatology, published by KARGER, Basel in 2021.

Presentation Outline

The concept of the ideal sunscreen emerged three decades ago when the role of UVA in photocarcinogenesis was unclear. Brian Diffey, speaking at an ASP-sponsored symposium in San Antonio, TX, in 1991, advocated "the development of sunscreens that absorb more or less uniformly the entire ultraviolet spectrum." The UVB-biased sunscreens available at the time allowed up to ten times more UVA to pass through than UVB. This raised the question about the danger of allowing a lot of UVA radiation through while attenuating UVB to prevent sunburn.
The central role of UVA in skin cancer and ageing is now better understood, and the concept of spectral homeostasis as an essential requirement for ideal sun protection can now be formulated into sunscreens. However, such sunscreens are not yet widely available. Due to technical, economic, and regulatory hurdles in the highly competitive sunscreen market, there is still little incentive to implement them. In the future, methods for evaluating sunscreen performance will be simpler and more accurate. This will help create more confidence and also demand among experts and sunscreen users, and will eventually be reflected in national and international standards. Other benefits of spectral homeostasis, such as higher vitamin D and NOx production, but also new requirements related to safety will be discussed. For now, it is important to continue moving in the right direction.
Biography

John comes from a background of over 50 years experience in the pharmaceutical and health care industries, mostly spent in R&D related roles. John left his final position as General Manager of Soul Pattinson Laboratories to become a consultant to industry where he has spent the last 30 years.

John is currently Australian Head Delegate representative to the ISO Committee on Sunscreen Testing under ISO Technical Committee 217 – Cosmetics and Leader of the ISO Working Group on Sunscreen Water Resistance.

He has won the prestigious Jack Jacobs award for best Australian/New Zealand cosmetic research on four occasions, including at the Cairns Australia 2015 Conference of the Asian Societies of Cosmetic Scientists.

John is a Past President and Life Member of Australian Society of Cosmetic Chemists

John retired as Managing Director of Eurofins | Dermatest based in Sydney, Australia in June 2019, but remains in a part time consultancy role as Scientific Director : Solar for Eurofins Cosmetics and Personal Care.

He is a regular speaker at the Sun Protection Conferences in London and Asia, as well as many worldwide scientific conferences.

Presentation Outline

Around the planet, an estimated 50 independent test labs offer SPF Testing. Each has its own report format. Whilst we are drawn to just one number on the report, it is important to look more deeply into the information provided where much other relevant information may be present, or may be absent. This presentation will highlight the issues with many SPF reports and provide methods by which the validity of the test data may be simply checked.
Biography

Mathias Rohr studied physics and bio-physics at University of Göttingen / Max Planck Institute (MPI) für Strahlenchemie/Mülheim-Ruhr Germany. Since the early 90's he is an employee at Institut Dr Schrader Hautphysiologie Germany. Over 3 decades he is involved in the development of biophysical devices and test methods in the field of skin physiological testing. In particular, the interaction of light and skin is a fundamental part of his clinical research history.

Besides classical SPF testing, methods like LIOAS (Laser Induced Opto-Acoustic Spectroscopy), Photoacoustic Spectroscopy of Sunscreens, NIR-RS (Near InfraRed Remission Spectroscopy), Skin surface analysis by FOITS (Fast Optical In vivo Topometry of Human Skin), ICL-S (Induced CemiLuminescence of Human Skin to investigate Oxidative Protection in vivo) and finally HDRS (Hybrid Diffuse Reflectance Spectroscopy) can be named as a research extract of his daily work.

Working on the international standardization of sunscreen testing methods and possible alternatives, he is a member of the ISO working group (WG 7) dealing with Sun Protection Test Methods, CEN, DIN, or the sunscreen working group of the German Society for Scientific and Applied Cosmetics (DGK).

Presentation Outline

A multi-laboratory clinical trial was conducted to evaluate the accuracy and repeatability of an alternative method to assessing SPF and UVA-PF protection provided by sunscreens. Diffuse Reflectance Spectroscopy (DRS) in combination with in vitro transmission measurements following ISO 24443 was used to test 25 sunscreens by 4 different laboratories and compared with standard human in vivo testing results (ISO 24444). The alternative method is based on the upcoming ISO 23698 and offers a completely objective approach to sunscreen protection assessment. However, without ethical concerns, the in vivo-based HDRS technique allows the key factor of sunscreen-skin interaction to be included in SPF testing.
Stéphanie Acker
Technical Manager SunCare
BASF
---
SPEAKER
Optimizing Sunscreens for Minimal Environmental Impact
Biography

In her current role, Stéphanie Acker is Senior Technical Manager Suncare. She supports customers with innovative UV filters composition and sunscreen formulation projects. This incorporates deep knowledge not only in all currently registered UV filters but also in their specific demands: solubility in which solvents, pro-and antagonisms of certain UV filters as well as formulation behaviour in the sense of dermal feeling or contribution to SPF. In addition, she manages specific projects and strongly supports the development of specific sunscreens for persons with Albinism in Africa in collaboration with "Beyond Suncare & Regional Dermatology Training Center in Moshi.

Since 2015 she focuses also on the environmental effects of UV filters and was one of the drivers of BASF's EcoSun Pass, which analyzes every EU applicable UV filter concerning scientifically accepted data related to environmental characteristics. As such, and being an expert in the kind of assessment, she joined the FEBEA Working group Ecotoxicity of sunscreen on marine organisms.

She also represents BASF to AFNOR GT7 and is delegated to CEN WG4 and ISO WG7 where she is an active member. Prior to joining BASF, Stephanie worked 10 years for COTY Lancaster group in Monaco and Ciba Chemical Specialty in Germany.

Presentation Outline

Sunscreen products contain UV filters, which after use in most cases end up in the environment. An assessment of the environmental impact of such UV filters is desirable because it could provide the possibility to design sunscreens with minimal environmental impact.

For that purpose, for most UV filters used in sunscreens all available data with respect to certain environmental endpoints have been collected. Such endpoints are biodegradation, bioaccumulation, acute aquatic toxicity, chronic aquatic toxicity, sediment toxicity and chronic terrestrial toxicity. Based on previously defined criteria, for each of those chapters, a ranking with a scoring number is introduced, and the overall environmental hazard score of an individual substance is obtained by adding up all scoring numbers.

Once the overall environmental hazard scores for the different individual UV filters are known, they can be composed for a sunscreen preparation. In order to account for the concentration of the respective component, its environmental hazard score is multiplied by its concentration in the sunscreen product. These results are summed up and then weighted with the filter efficiency with respect to SPF and UVAPF, resulting in a number that provides an indication of the ecological harmlessness of a UV filter composition. This number can be linked to a label. There exist already other labels on sunscreen packaging which will also be discussed. For the future, we also plan to include data concerning the influence of UV filters on coral reefs. This will only be possible when standardized tests are available.